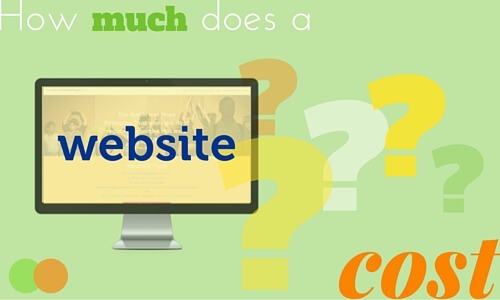 How much does a website cost? Less than a house.
In other words, it depends on the website, just as the cost of a house depends on how many bedrooms, location, age, and so on. A single page website with basic contact details and a couple of photos is a very different beast to an e-commerce site with twenty pages and hundreds of items for sale with descriptions and prices for each one.
So let's narrow the cost down a bit.
Let's assume that everyone commissioning a website wants a good website, delivered quickly and cheaply. Unfortunately, you can't have all three – there's a useful formula for this: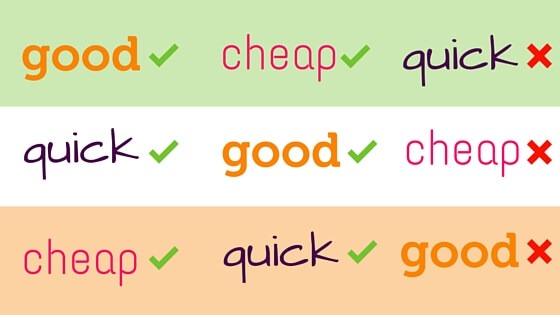 A website can be Good and Cheap – but it won't be Quick.
A website can be done Quickly and be Good – but it won't be Cheap.
A website can be done Cheaply and Quickly – but it won't be Good.
The cheapest option for a website is a Do It Yourself website builder. You don't need to know any HTML or CSS to start – choose a template, drag and drop different elements, like text or photos, and you can publish a site.  Simple websites are often free to design.  The website will then be hosted by the website building company for an annual fee.
Squarespace is a great website builder. They have lots of beautiful templates, which you can adapt quite easily. They have a recognisable style, and work particularly well with good photos. Prices start at $60 for a single page website (approximately £40) or $96 for multiple pages (approximately £65). Wix, Weebly and Moonfruit are other cheaper, if less stylish, options. All offer free trials, so you can see which one suits you before paying anything.
So, a website builder can be Cheap and Quick – but it won't be very Good. Or, if you invest a lot of time in it, it can be Cheap and Good – but won't have been Quick.
Even DIY website builders can be intimidating at first glance, however. It's a bit like flat-pack furniture – some people relish the chance to get going with the Allen key, whereas some recoil in horror before the box is even open.
And you still need to make decisions about the design – what colour scheme do you like? Which typography suits your needs? How big should photographs be? So be prepared to invest some time learning how the building blocks work and getting the look of your website right.
If building a website isn't for you, you need to employ a designer.
How much do designers cost? There is no single formula for what a designer will to charge for a website – placing a value on your skill is a skill in itself. So let's go back to the earlier "formula".
An independent designer will be cheaper because their overheads will be less. However, working alone means there won't be a team of designers to produce a website really quickly.  Good? Yes. Cheap? Not as cheap as DIY,  but cheaper than a big agency. Quick? Not necessarily – good design takes time, and a good designer will take their time to get a better result.
A design agency can offer good websites quickly because they have the resources to save time. However, this option won't be cheap because of their overheads.
A website is a big investment, which we understand.
My skill is as a designer, and a coder. I have spent years honing my design skills by working as an architect, and now apply these to the visual requirements of a website. This includes the colour combinations, typefaces, and layout. My coding knowledge allows me to create a layout that matches my design.
I love designing websites, and I love coding my designs, but I also want to offer a fair service.  I won't rip you off, and there will be no hidden charges – but I won't under-sell myself either.  Under charging for a job just to get the job results in hasty decisions, which are often poor decisions. Equally, I am aware that, for many of our clients, this is their first website. Taking that first step is a big decision. So we offer a one-page website as our entry option. This sets up the visual style of your website, and gives you an opportunity to test what content your visitors need, and what pages you want to add in the future.
You can find our full pricing structure here.  If you want a price for your website, fill out our Design Brief, and we will let you know the cost.
---