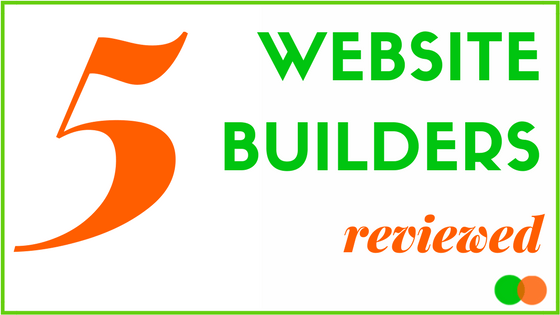 Website builders are a great starting point for a business or personal site. You might not have the budget to invest in a bespoke site straight away, or you might like the challenge of designing a site yourself – that's how I discovered the joys of website design!
The range of options out there can be confusing, so I've tested five of the best Website Builders which are suitable for different types of websites. I have only considered builders that have the option of responsive websites, where the content adapts to different screen sizes – essential for any modern website.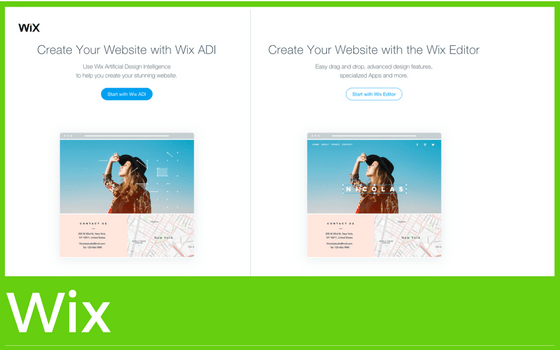 The largest of the Website Builders, and a true Drag and Drop – you can drag all the building blocks of a website page, such as content, photos, testimonials, and drop them into position on your page. The Drag and Drop gives hundreds of options – great if you have a clear idea of what you want, but a bit overwhelming if not.
If this is your first attempt at building a website, I'd recommend starting with Wix's ADI (Artificial Design Intelligence) – this gives you prompts about your business, why you need a website, your preferred style (Minimal, Chic, Vintage), etc. Fonts and colours are then specified to reflect your chosen style. Click on Typography, for example, and you see pairings of headings typeface and contrasting body typeface. The descriptions, like "Playground" or "Chic" for these are helpful, and it's easy to flip between these. It's also pretty easy to add or remove the sections that Wix has suggested for you. Full marks for ease, although not much variety.
When you are on the right page, and choosing the right element, it is all very usable and clear. Problems happen when you can't find a way to go back and edit an element. I couldn't immediately find a way to change the font for my business name in the Header, which didn't match the Fonts I had chosen under "Fonts".
One word of warning with the ADI: every page includes plausible content, rather than the conventional Ipso Factum. It is essential that you replace this with your own copy for your SEO. 
The big drawback with Wix is that you can't change templates once you have started, so make sure you have a clear identity in mind before you start adding content. If you choose the ADI option, you can't then switch to a more flexible template.
Best for: ready-made design for your business sector
---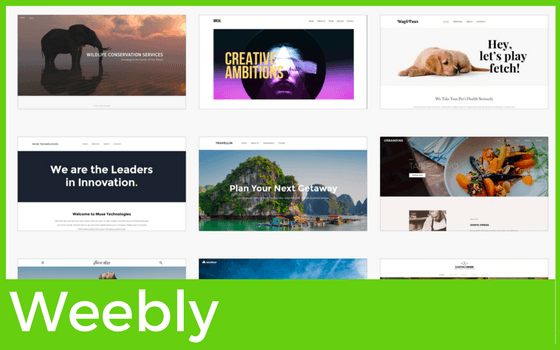 A simpler version of Wix. There are 100+ themes to choose from, compared to 500+ at Wix, but this still gives you plenty of choice, and I found it more intuitive.
If you want a simple template, and want to tweak font size, colours, proportions, Weebly allows you to this really easily.  Pre-designed page layouts are available for any template too. You can also change templates without losing your content, and all Weebly themes are responsive. Less bells and whistles, but less overwhelming too.
This simplicity is also the downside of Weebly. You're limited as to where Drag and Drop elements can go, and it's also only really suitable for a few pages. You can add an unlimited number, but you can't control the navigation – pages are either included, or excluded. Blogs are not well supported either.
Webnots have a great website that is dedicated to demonstrating many of the Weebly features – worth a read if you are ready to build with Weebly.
Best for: novice website builder
---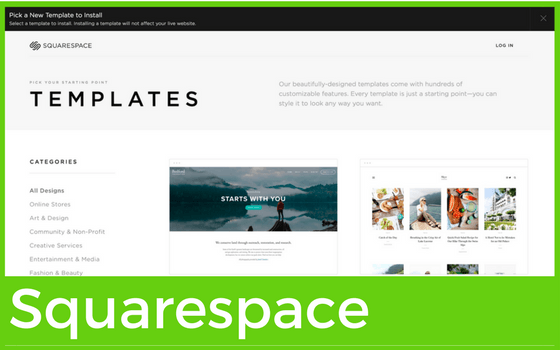 Squarespace's great strength over other Website Builders, is the quality of design. You can choose from over 80 templates, all beautifully designed, and all responsive. (It's where I discovered my love of website design, so I am slightly impartial about this option…!)
All the templates suit quality photography. So, if you have good photos, it is a fantastic showcase. Conversely, if you don't have great photos, you could struggle. It's easy to switch templates without loosing any of your content. It's an intuitive Drag and Drop builder, so you can alter the layout of your pages quite easily. Because the layouts are so well designed, it's a great starting point for an eCommerce site, although it doesn't have sophisticated behind-the-scenes support.
All templates allow you to change fonts and colours, but it can be difficult to customise without adding your own code. And not all functions are available on every template.  Only some support Sticky Headers, for example (where the top of the website stays visible when you scroll down the page). And you can't add a Gallery page layout from one template onto another template.  With Squarespace, its Squarespace design that you are basically paying for. If you can't find a template to suit your style, it's not the Website Builder for you.
Best for: Portfolios, and websites with top-notch photography.
---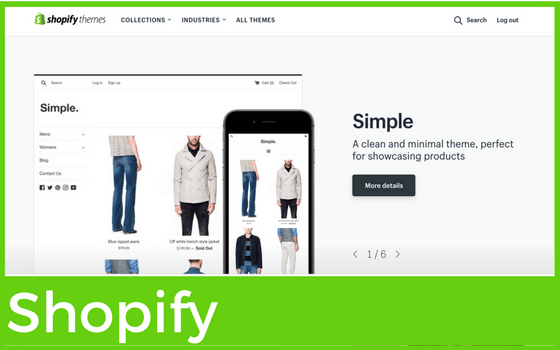 Shopify is solely aimed at eCommerce. It's pretty limited compared to other Website Builders, but it has the best eCommerce support. Ten free themes are available, with many more that you can buy.
All manner of commercial support is available within the Content Management System. Reporting and payment options are wide-ranging, and options increase with the more expensive plans.
In terms of Website Builders, I found this the least user-friendly, however. Themes are not very customisable, There is no Drag and Drop and, while you can in theory add and remove sections, but I found this very unintuitive, and clicked through many options before I found what I was looking for.
Best for: eCommerce.
---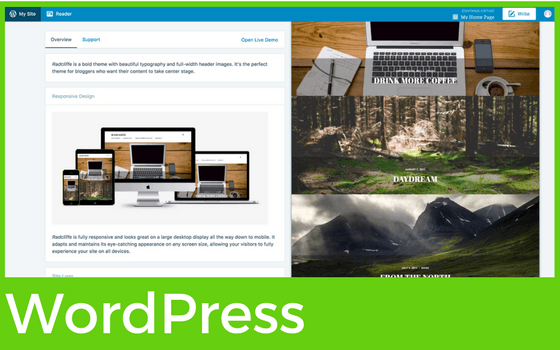 For clarification, I am talking about WordPress.com here, which is WordPress's own hosting platform, rather than WordPress.org, which is the self-hosting website platform – I recommend reading this really helpful article that explains the difference between the two.
This is the most popular blogging platform. If you want a showcase for a blog, rather than goods or services, this is the simplest place to start. There are over 100 free themes to choose from, including 15 with responsive layouts, and it's easy to switch between.
However, the options within each theme are limited, beyond customising colours and fonts. You can add widgets to a Sidebar, like your Instagram feed or a list of previous blogs, but the layout of the pages is fixed with each theme – if you don't like the layout, change theme.
Best for: Bloggers.
---
All of the website builders I have reviewed have a free trial period (or longer), so try them out for size, and see what feels best for you – it's horses for courses, as always.
I'd love your thoughts on Website Builders you've tried – comments welcome below. Or if you have any more questions, get in touch – I started out in website design by using a builder, so know what it's like to be confronted by all this choice!
---