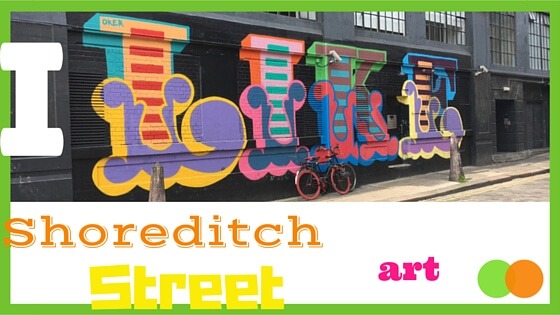 I love art, and I'm very fond of Shoreditch. I know it is often mocked nowadays, but I've always found it's hipster obsessions rather endearing. I knew that there was high quality graffiti in the area. But, when on a recent walking art tour of Shoreditch – which I can't recommend highly enough – my eyes were opened to street art that I had never noticed. The range and quality of the pieces, all within less than a square mile, is world class.
It would be easy to list 50 pieces of street art worth looking out for, but here are my Favourite 5. All top quality.
1 Crunchie the Credit Crunch monster
What's not to love about a name like that? Ronzo created Crunchie as "the terrifying mascot of the global financial crisis". He originally looked down symbolically over the City, but has now moved to a new haunt near the Old Truman Brewery.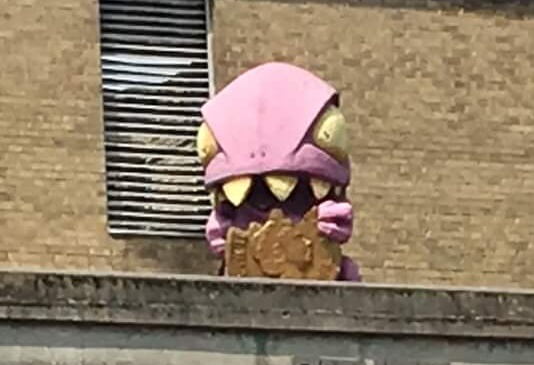 Look out also for small reliefs featuring Crunchie in the City of Ronzo crest, a revised City of London crest.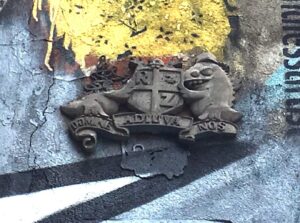 You can find more images of Crunchie in different guises in this blog.
2 Lion on entrance to Old Truman Brewery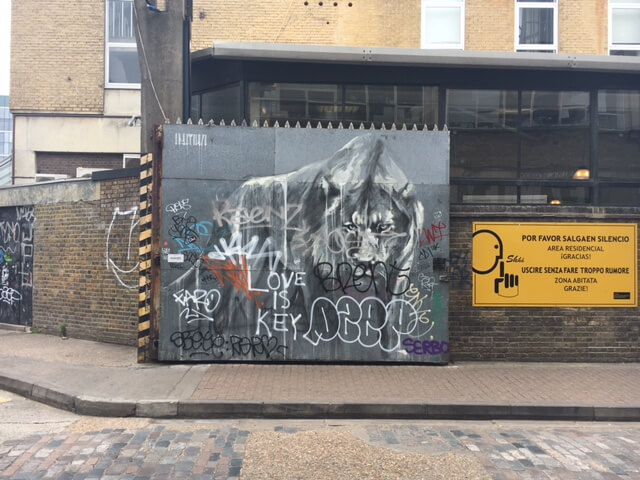 Street artists come from all over the world to add their art to the streets of Shoreditch. This lion is by South African Faith 47. It's beautiful translucence makes the most of the dripping paint, which is a distinctive feature of street art and emphasises the speed with which it is created.
The gate is also an intriguing mix of graffiti and imagery, layered on top of each other. There is apparently an etiquette of what can be painted on top of something else. In this case, it might not always be art of a higher quality, but it does empahsise the evolving nature of street art.
3 The Cycle of Futility "Gif-itti" – Redchurch Street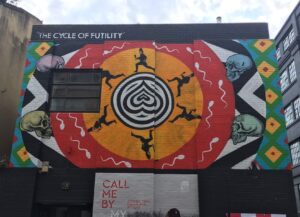 The more you look, the more amazing art you see on the streets of Shoreditch. But to get the most of this one, by INSA, you need an app. It really has to be seen to be believed, but you get an idea of the moving images from his website.
Once you have downloaded the app, go to Redchurch Street, hold your phone up in front of the picture – and admire.
4 Jonesy bronze castings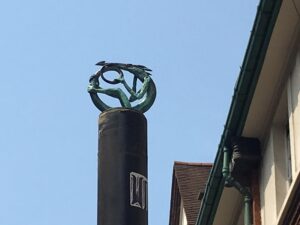 This bronze casting sits on top of a post next to the Punchenello Gate of Spitalfields Market. Look up carefully – it is only about 10cm across. Beautifully detailed, the ouroboros represents the world's overconsumption of oil and other resources.
This article on Jonesy in Inspiring City gives some background, and the enormous range of his work can be seen here. It would be worth a long walk around Shoreditch just to spot all of these.
5 Marching Robots by Dr Cream
Street art isn't just about paint. (Or even bronze.)  Stickers are a whole world in themselves – Shoreditch Street Art Tours has a great blog detailing many fine examples of what really is an art form.
These stickers of Marching Robots by Dr Cream are individually are really fun to spot as they are numbered, and each one seems to be telling a story. But they are also work as an animation – check out this YouTube video that shows how his different sticker series work when animated.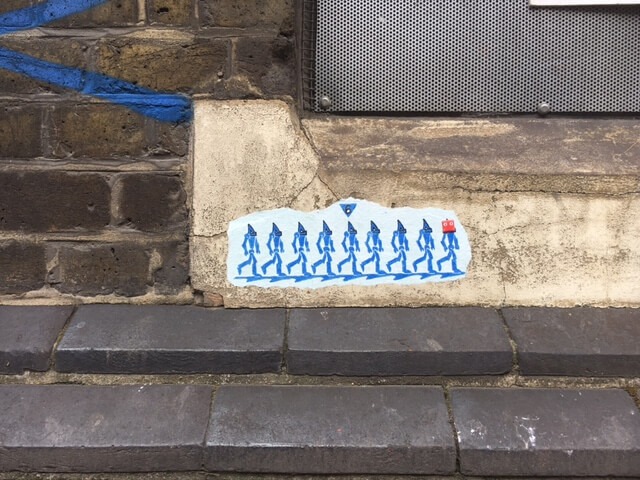 And then there is Banksy.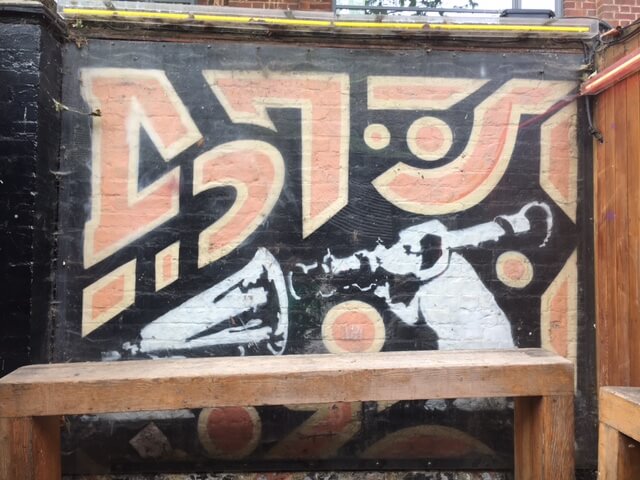 No introduction needed. This, and one other, can be found in the courtyard of Cargo.
Last one: Ben Eine, artist behind the lettering in the image at the top of this blog (on Ebor Street).  The full text reads "Like Nowhere Else". How true.
What have you seen recently?
---